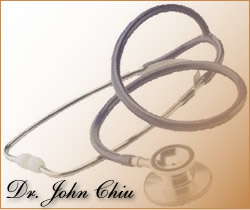 Please be advised that Dr Chiu will be joining Hoag Medical Group at the same current location as of August 20, 2018. Phone calls to our current phone number (949-644-1422) will be forwarded to the new number (949)557-0690 in the next couple of months. You may also visit HoagMedicalGroup.com for more information. **** Our practice focuses on diagnosis and management of all allergic conditions including asthma, hay fever, chronic sinus infections, impaired immune function other than AIDS, hives, angioedema, itching, eye allergies, headaches, food allergies, gluten sensitivity, insect stings & bites allergies, chronic cough, ,skin allergies, hypersensitivity pneumonitis, Allergic Bronchopulmonary Aspergillosis (mycoses), itching, certain interstitial lung diseases , allergy to drugs local anesthetics, unexplained intestinal bloating, eosinophilic esophagitis (EoE) and gluten "allergy". We have been doing challenge test on more and more patients suspected to suffer food allergies.

We will do our best to find the cause of your problem, and refer you to the appropriate specialist if indicated. We are also involved in investigating the various health effects of mold, cockroach, or water damage exposure .

We are just one of the few centers in Orange County to offer whole body UVB-NB (narrow band) phototherapy to treat various skin disorders. Although our practice focuses primarily on atopic dermatitis, ITCHING, and itchy skin conditions, UVB-NB has been reported to be effective for treating psoriasis, atopic dermatitis, vitiligo (loss in skin pigments) , lichen planus, and possibly localized scleroderma. Its worst potential side effect is a sunburn but its greatest utility is to act as a safe and effective alternative to more toxic drugs. Although allergy shots remain the mainstay for treating allergy, sublingual drops or tablets may be an option for some patients. Notice: Although we accept most PPO insurances, be sure that our practice is included in your plan before you make your appointment. Should you decide to cancel or reschedule your appointment, please kindly notify us ASAP so that we can open up the slot for patients waiting to be seen.

**********Tips of the month- *********

,

Health & Allergy Tips: Anecdotal evidence of food allergies abounds, but just how common are these allergies and intolerances? In a new study, investigators from Brigham and Women's Hospital combed through medical records from more than 2.7 million patients, identifying more than 97,000 with one or more documented food allergy or intolerance. Their findings were published in the Journal of Allergy and Clinical Immunology. "Recent reports suggest that food allergies are on the rise, with more food–allergy related hospitalizations in the U.S. over the last decade. However, many studies have been based on telephone surveys or have focused on a specific food allergen or allergen group," said Li Zhou, MD, PhD, of the Division of General Medicine Primary Care at BWH. "We recognized that the electronic health record system could offer a treasure trove of information about allergies to better understand which populations may be most affected and just how common food allergies and intolerances are in the U.S." Some of the team's findings include: Food allergy or intolerance were documented for 3.6 percent of the population studied Shellfish was the most commonly reported food allergy The highest rates of food allergies or intolerance were among females and Asians The multidisciplinary team, including a medical student, Warren Acker; an allergist, Kimberly Blumenthal, MD, MSc; patient safety experts and informaticians, used food and allergy intolerance data collected at Partners HealthCare between 2000 and 2013, including information from multiple community and specialty hospitals as well as community health centers. The team examined data on culprit foods, reaction(s) to that allergen, date/time of the reaction and more. The research team used the term "food allergies and intolerances" to include any adverse reaction to food (such as hives, anaphylaxis, shortness of breath, wheezing, itching, swelling and more) as well as pseudoallergic reactions, intolerances and even food preferences reported in the health record. The team looked at a variety of food allergens, finding that almost 13,000 patients had a reported allergy or intolerance to peanut, including more than 7,000 (56.5 percent) who had hives, anaphylaxis, or other potentially IgE–mediated reactions. To better understand the validity of the food allergy data they examined, they looked at specific antibodies produced in response to peanut via the radioallergosorbent test (RAST) or ImmunoCAP test for all patients who reported a peanut allergy. The overall rate of allergy prevalence that the team found –– 3.6 percent – is consistent with previous estimates using oral food challenges.